news >>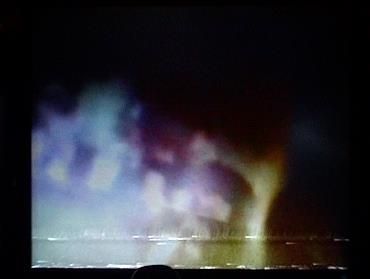 JADE BOYD by JOSEPH STANNARD, The Wire, 2011

'I first encountered the video art of Jade Boyd at Unsound 2010, where she was providing live visual accompaniment for a performance of soundtrack music by film composer Alan Howarth. As much as I was enthralled by the clean lines and masterfully maintained tension of Howarth's set, I was equally beguiled by Boyd's complementary visuals. Given a large catalogue of film images to work with, Boyd crafted a dreamlike fugue of terrible beauty which blended well-known moments from acknowledged Carpenter classics with choice cuts from less celebrated entries in the director's mythos such as Halloween IV and V. This was more than a simple montage of fondly remembered scenes. Boyd chopped, folded and blended these fragments in such a way as to brilliantly underscore the inherent surrealism of genre cinema.
Boyd's live work employs feedback and distortion in both image and sound…Visual improvisation, if you will. As well as working with video and sound in a live context, Boyd has been responsible for a number of cut videos and installation pieces. Her more 'composed' pieces have been compared both to the work of Nam Jun Paik, Derek Jarman and the punkish savants of the contemporary Noise scene.
Boyd is fascinated by the capacity of technology for manifesting the otherwise unseen forces which govern our existence, as acknowledged by science and the occult. The intersection of these superficially opposing areas is where Boyd finds inspiration. She works to unveil these forces via "sound waves and electronic impulses as in video signals."
In her commissioned pieces for musical performances, Boyd shows an uncanny knack for drawing out the impulses and images that fuel an artist's work. Since Unsound, I myself have worked with Boyd on a number of projects involving Position Normal, Ekoplekz, Hong Kong In The 60s and The Larsen Effect. On each occasion, Boyd has wasted no time in locating the heart of each individual aesthetic, often bringing out elements that even her collaborators had not yet recognised in their own work. Influenced by the phenomenon of Scratch Video, which has its roots in the Post-Punk and Industrial culture typified by outfits such as Cabaret Voltaire, SPK and Psychic TV, Boyd identifies the hidden currents that course beneath sonic surfaces, demonstrating a form of harnessed synesthesia or, as I prefer to term it, videowitchery.'
http://unsound.pl/en/festival/program/artists/unsound-festival-new-york-2011/show/298